Zuckerberg's Meta Miscalculation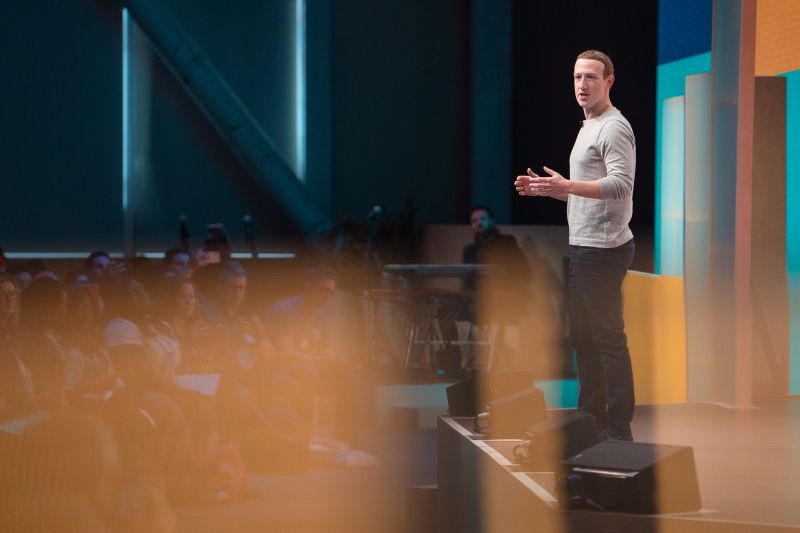 Physicist Richard Feynman delivered a commencement speech at Caltech, in 1974, called "Cargo Cult Science." He pointed out all the mistaken theories we have, but more importantly, our methods of evaluating whether or not our theories are mistaken. He concludes that "The first principle is that you must not fool yourself—and you are the easiest person to fool. So you have to be very careful about that."
Management teams fool themselves all the time, especially if they have been very successful in overcoming past challenges and have been proven right many times over.
Facebook's—now Meta's—co-founder Mark Zuckerberg has a long history of proving people wrong. His board members would have chosen to sell Facebook to Yahoo for $1 billion in 2006, but Zuck refused. When he acquired photo-sharing app Instagram for $1 billion in 2012, he was widely mocked. Last year, Instagram was estimated to have generated around $20 billion in revenue (Meta doesn't break out Instagram's top line).
Then there are all the regulatory bullets. Every one of them was going to fell Meta, hurt its business and cripple its ad targeting. General Data Protection Regulation (GDPR), the European Union's attempt to increase user privacy, ended up strengthening Meta, rather than weakening it. Unlike startups, Meta had enormous teams of lawyers working on GDPR compliance, and direct access to its regulators.
From a WSJ story in April 2018:
Facebook lawyers spent a year scrutinizing the law's lengthy text. Designers and engineers then toiled over how to implement changes, according to Stephen Deadman, Facebook's global deputy chief privacy officer. During the process, Facebook got frequent access to regulators across Europe.
 
It met with Helen Dixon, the data protection commissioner in Ireland, where the company bases its European operations, and her staff to run through changes Facebook was planning. Ms. Dixon's agency provided the firm with feedback on the wording of its consent requests, Facebook said.
 
"We've been getting their guidance over many months," Mr. Deadman says. Ms. Jourová, the EU's justice commissioner, said the tech giants seemed scared when she met with them in Washington a year ago. Google and Facebook then went from trying to fight GDPR to deciding to use it to their corporate advantage, said a person familiar with the meetings.
 
Travelling to Silicon Valley in September, this person said, Ms. Jourová sat down with Facebook officials to discuss privacy, and met with Facebook Chief Operating Office Sheryl Sandberg. The next morning, at a meeting at Google headquarters, employees spent much of a two-hour breakfast meeting taking Ms. Jourová through Google's approach to compliance.
It wasn't clear, however, that Meta would be able to maintain its revenue growth rate, profitability and ad targeting intact with GDPR. It was a risk. In late January 2018, during Meta's fourth quarter 2017 earnings call, then-COO Sheryl Sandberg noted, in a reply to a question about the impact of GDPR:
When you think about GDPR, the Facebook family of apps already applies the core principles in the GDPR framework, which are transparency and control. And we're building on this to make sure we're ready to fully comply by May. We're going to continue to give people a personalized experience and be clear about how we're using the data and give choices. And we realize that this means that some users might opt out of our ad targeting tools. We also know that there may be a DAU impact for implications on European usage. But from the targeting, we're not forecasting a big impact here. There is some risk and we're watching closely. Over the long run, we feel confident that we're very well-placed to navigate the transition.
An important point about GDPR is that it affected everyone. As long as Meta had a level playing field, the most important factor would be the impact it felt relative to other players. Meta has the best ad targeting for small businesses running direct-response ads. After GDPR, the same would likely be true. In April 2018 during Meta's Q1 earnings call, CFO David Wehner noted:
I think it's important to note that GDPR is affecting the entire online advertising industry. And so what's really most important in winning budgets is our relative performance versus other opportunities presented to marketers, and that's why it will be important to watch kind of how this plays out at the industry level.
And indeed there was no discernible impact. There was softness in Meta's European business, yes, but for the most part, Meta's business kept chugging along, with steady growth in revenues and revenues per user: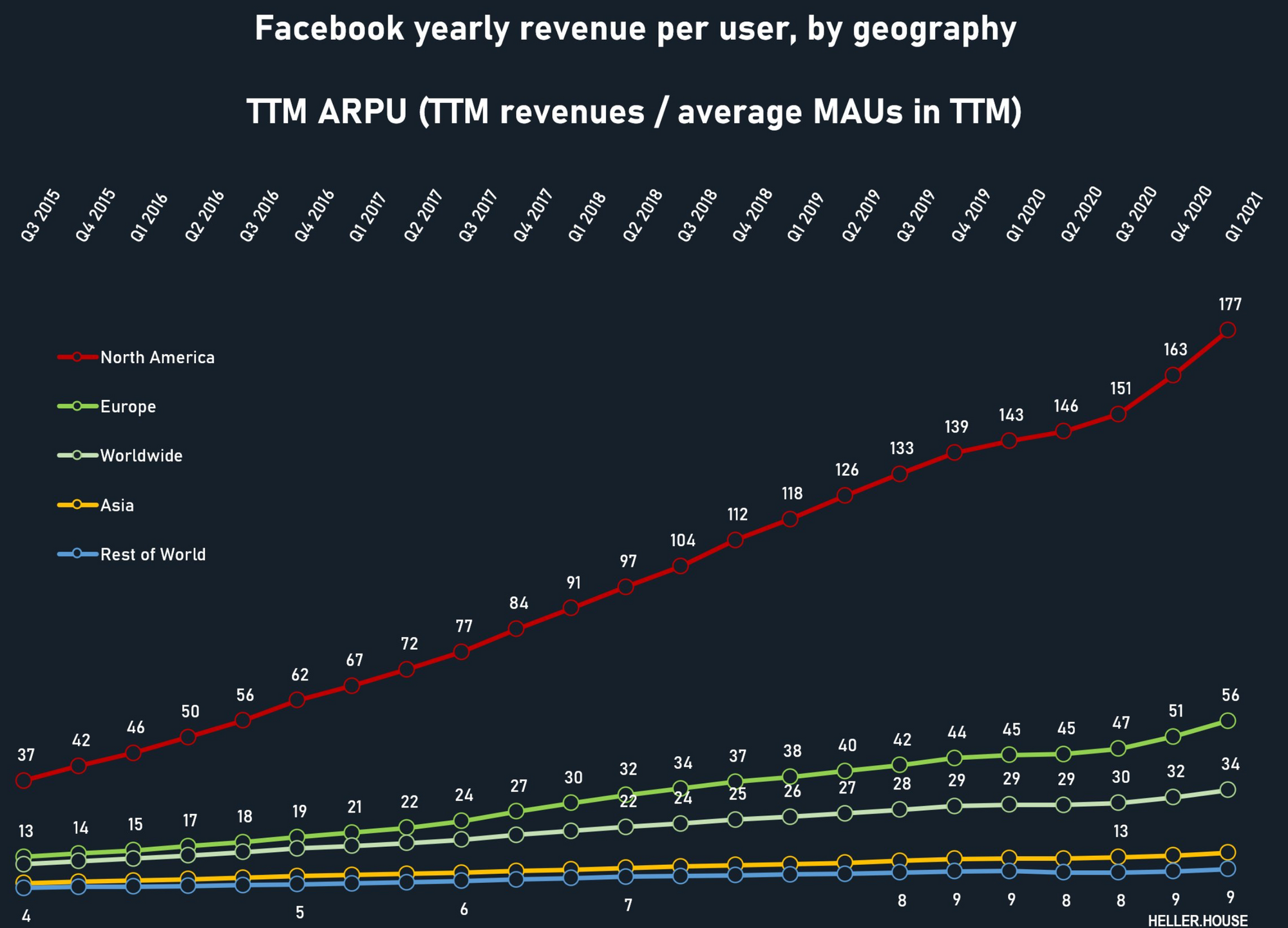 It turns out that Meta would be able to dodge every regulatory challenge thrown at it. Regulators are tough; but they'll have breakfast sessions with you to work over the details. They'll let your teams of lawyers spend a year poring over the text of your proposed law before it goes into effect, and then spend time with those same lawyers to make sure they're in compliance.
Business competitors, however, aren't tough; they're ruthless. As Nike's founder Phil Knight once said, "Business is war without bullets." And Meta would be felled not by regulators, but by a competitor: Apple.
In early 2021, Meta knew that Apple's upcoming iOS changes to Identifier for Advertisers—IDFA—was a challenge to its ad targeting system. In late January during Meta's fourth quarter 2020 earnings call, then-COO Sheryl Sandberg noted:
And what's happening with IDFA is that small businesses are really concerned because they're worried that they're not going to be able to buy effective advertising. If all personalized ads went away, small businesses would see a 60% cut in website sales. Now we don't think Apple's contemplating going that far that quickly, but that is the general direction of what would happen. And you can see that, that would be very detrimental to their business. It's also very detrimental to economic growth because so much of our job growth comes from small businesses.
Meta took out newspapers ads to warn about the impact of Apple's IDFA changes, but most observers did not take the warnings seriously.
Zuck, having succeeded in proving his critics wrong and successful in navigating previous headwinds to ad targeting, didn't seem especially concerned.
In March 2021, during an appearance in the audio app Clubhouse, Zuck was asked about the upcoming challenge:
When it comes to, the iOS 14 changes, for example, and their impact on our business, I think the reality is that I'm confident that we're gonna be able to manage through that situation. And we'll be in a good position. I think it's possible that we may even be in a stronger position.
 
If Apple's changes encourage more businesses to conduct commerce on our platforms, by making it harder for them to basically use their data in order to find the customers that would want to use their products outside of our platforms.
 
But the thing that I've been mostly focused on is that a lot of these changes are going to make it harder for small businesses and developers. And I think the situation is going to be challenging for them to navigate. And, I just think it's one of the reasons why Facebook has been a bit outspoken on this is, there are certain principles that we care about and empowering individuals is one of them.
Two things stand out here. First, Zuckerberg seemed confident that Meta would weather the storm. The impression he gives is that there wouldn't be much of a storm at all, just a transition period. It sounds very much like the transition that happened under GDPR.
The second point is that part of the solution would be for more activity to happen inside Facebook. If all user data is accessed inside Facebook and shopping and conversion happen inside the platform, there is no impact from Apple's IDFA change. To this end, Facebook and Shopify had announced a partnership in 2020 to allow Shopify merchants to launch shops inside Facebook. They were already acquiring many of their customers inside Facebook; if they could also perform the sale there, there would be no IDFA effect.
Zuck's Miscalculation
Zuckerberg's track record of proving his critics wrong and overcoming headwinds would come to a crashing halt. In February 2022, during its fourth quarter 2021 earnings call, Meta shocked the world by announcing that Apple's IDFA changes would result in a $10 billion revenue headwind for the coming year:
We believe the impact of iOS overall as a headwind on our business in 2022 is on the order of $10 billion, so it's a pretty significant headwind for our business.
 
And we're seeing that impact in a number of verticals. E-commerce was an area where we saw a meaningful slowdown in growth in Q4. And similarly, we've seen other areas like gaming be challenged. But on e-commerce, it's quite noticeable -- notable that Google called out seeing strength in that very same vertical. And so given that we know that e-commerce is one of the most impacted verticals from iOS restrictions, it makes sense that those restrictions are probably part of the explanation for the difference between what they were seeing and what we were seeing.
 
And if you look at it, we believe those restrictions from Apple are designed in a way that carves out browsers from the tracking prompts Apple requires for apps. And so what that means is that search ads could have access to far more third-party data for measurement and optimization purposes than app-based ad platforms like ours. So when it comes to using data, you can think of it [that it's] not really apples-to-apples for us. And as a result, we believe Google Search ad business could have benefited relative to services like ours. It takes a different set of restrictions from Apple. And given that Apple continue to take billions of dollars a year from Google Search ads, the incentive clearly exists for this policy discrepancy to continue.
Meta has generated $120 billion of revenue in the last twelve months. While a $10 billion headwind sounds like a lot, it's actually "just" around eight percent of revenues. But it was the perfect storm for Meta: not only did they miscalculate the magnitude of the impact, their advertisers also cited macro uncertainty and supply chain issues to justify lower ad spend.
Notably, this wasn't, like GDPR, industry-wide. Note the carve-out for Google Search. In hindsight, this was totally predictable: Google has been paying an estimated $15 billion per year to Apple to be the default search engine in Safari.
It would stand to reason, then, that with this sort of protection money, Google would get a carve-out. And it did.
Then there was heightened competition from TikTok's short-form video, and Meta's late recognition of this threat. It is now playing catch-up in short-form, releasing Reels. As was the case when it launched Stories to counter Snap's encroachment, new media don't monetize as well initially, so Reels is not yet a meaningful contributor to Meta's revenues.
The result is a collapse in Meta's growth rate: revenue had been growing 22 percent and 37 percent year-over-year in the last two fiscal years, and grew 27 percent in the last twelve months. Yet the expected growth rate for this fiscal year is just 7 percent, and profits are expected to decline by 17 percent.
Meta did not see this coming. In April 2022, during its Q1 earnings call, Zuckerberg noted that the acceleration of revenue growth in 2021 led the team to increase its growth investments:
Based on the strong revenue growth that we saw in 2021, we kicked off a number of multiyear projects to accelerate some of our longer-term investments, especially in our AI infrastructure, business platform and reality labs. These investments are going to be important for our success and growth over time, so I continue to believe that we should see them through. But with our current business growth levels, we are now planning to slow the pace of some of our investments.
The acceleration of investments resulted in expense growth of 31 percent in Q1 2022 compared to the prior year, whereas revenues grew only 10 percent on a constant currency basis. Strikingly, Meta added 5,800 employees in Q1, and ended the quarter with 77,800 full-time employees.
While Zuck should have been intensely focused on solving the IDFA headwind in late 2021, he was busy rebranding the company to Meta.
The market also did not see this coming. During the February earnings call, Meta's stock dropped 25 percent and declined a total of 50 percent since the day before the call, wiping out over $400 billion in market value.
That sounds like a huge decline in value for a relatively modest eight percent revenue headwind, but that's not the end of the story. Meta is now in a multi-quarter, if not multi-year, turnaround period to overcome the signal lost from the impact of IDFA. From the Q1 earnings call in April:
We're making major AI investments to build the most advanced models and infrastructure in the industry. Over the next year or two, we hope that this drives better recommendations for people, higher returns for advertisers and increases our revenue growth, even in the face of signal loss. Over the longer term, I think that these large technology investments can provide a sustainable competitive advantage over others in the industry.
And the challenges aren't over. There are additional headwinds expected from iOS 15; Meta wouldn't speculate on what the upcoming iOS 16 might do.
On the regulatory front, Sandberg, in a reply to a question about Europe's Digital Markets Act, noted:
We expect DMA to have significant challenges for our industry. We're working with European regulators on these rules. They are largely in the range of what we were expecting, but the final text has not been released yet, and the details on this will matter. But overall, the regulatory environment is a real challenge for our industry.
The bullwhip effect of miscalculating demand in 2021, investing heavily in growth, only to see IDFA and macro challenges materially undermine those expectations, led Zuck to turn up the heat on Meta's employees.
Earlier this month, Reuters obtained audio from Meta's weekly Q&A session. It had the strongest language I've seen Zuck use in a while:
If I had to bet, I'd say that this might be one of the worst downturns that we've seen in recent history. […] Realistically, there are probably a bunch of people at the company who shouldn't be here. Part of my hope by raising expectations and having more aggressive goals, and just kind of turning up the heat a little bit, is that I think some of you might decide that this place isn't for you, and that self-selection is OK with me.
While most enterprise SaaS companies are complaining about the "great resignation" and elevated churn in their employee ranks, Zuck is welcoming more churn.
A memo from Chief Product Officer Chris Cox, which appeared internally in Meta's Workplace app before the Q&A, pointed to the sense of urgency, and perhaps emergency, at the company:
 
The company must "prioritize more ruthlessly" and "operate leaner, meaner, better executing teams," Chief Product Officer Chris Cox wrote in the memo, which appeared on the company's internal discussion forum Workplace before the Q&A.
 
"I have to underscore that we are in serious times here and the headwinds are fierce. We need to execute flawlessly in an environment of slower growth, where teams should not expect vast influxes of new engineers and budgets," Cox wrote.
 
The memo was "intended to build on what we've already said publicly in earnings about the challenges we face and the opportunities we have, where we're putting more of our energy toward addressing," a Meta spokesperson said in a statement.
What was particularly interesting from Cox's memo was the acknowledgement that Meta would have to increase the number of graphic processing units (GPUs) by five times in Meta's own datacenters to "support the 'discovery' push." This is related to the need to catch up with TikTok's short-form video: in order for Reels to become a competitive equal, it must delight users with snappy, relevant recommendations outside users' social circle.
It took Meta four years to figure out how to monetize Stories at the same level as it monetizes Feed, and the company acknowledged there is more work to be done outside the US, its largest market. It sounds like Meta doesn't want to wait that long to get Reels monetization up to par:
Interest in Meta's TikTok-style short video product Reels was growing quickly, said Cox, with users doubling the amount of time they were spending on Reels year over year, both in the United States and globally.
 
Some 80% of the growth since March came from Facebook, he added.
 
That user engagement with Reels could provide a key route to bolster the bottom line, making it important to boost ads in Reels "as quickly as possible," he added.
Implications for Investors
Meta stock has materially de-rated throughout this saga. Over the past three years the stock has hovered around 20x earnings on a forward basis, peaking at 28x in mid-2020, with a trough of 14x at the Covid bottom in March 2020.
Today, the stock is at a paltry 12x forward earnings, its lowest valuation ever.
It's a shame that Meta spent so much money acquiring shares at higher valuations. The optimism that 2021's growth rate would persist and IDFA wouldn't be much of a headwind led to record levels of buyback activity in Q4 of last year, just before the 50 percent drop in the stock price: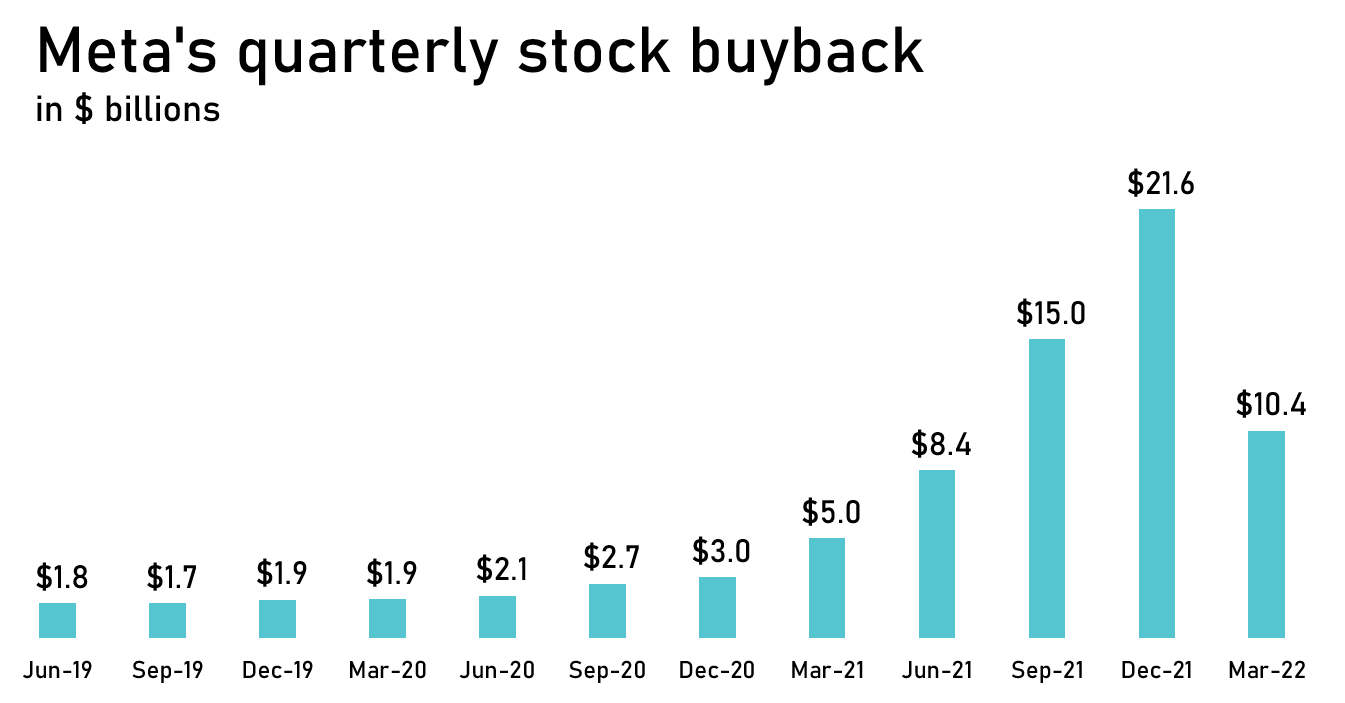 For investors, though, what matters is the future.
And here, the picture is complicated.
Meta will likely keep spending at least $12 billion per year in its Reality Labs, and losing similar amounts, for the foreseeable future. Zuck doesn't envision its AR and VR headsets to become meaningful revenue contributors until the 2030s. He has, however, committed to keep growing the company's overall profitability.
But how quickly will that profitability grow? While Facebook and Instagram continue to have engagement levels higher than pre-pandemic days, and its user base continues to grow overall—incredibly, given that Meta reported nearly 3 billion MAUs last quarter—there is a huge number of challenges facing the company:
Increased regulatory headwinds – how serious will DMA's impact be?
Will Apple continue to tighten the ad-targeting noose with iOS 15/16?
How long will it take for Reels to monetize at Feed levels?
Will TikTok's threat to engagement continue to grow?
How many quarters, or years, will it take for Meta to recover the lost signal for ad targeting?
While 12x earnings feels low, it also seems appropriate for a company facing so many challenges, in a state of perpetual turnaround. Companies with very predictable earnings streams should, in theory, trade at higher multiples. Meta, on the other hand, is engaged in a never-ending game of whack-a-mole.
It is possible Meta will have a lid on its multiple until it can prove to be the steady grower it was previously.
This would be the bear case.
The bull case would be that Meta continues to have a strong balance sheet and enormous free cash flows (it generated nearly $40 billion last year and is expected to generate over $24 billion in the coming year).
If Zuck and Cox are successful in their exhortations for better and more ruthless execution, it's not out of the realm of possibility that Meta fixes its issues more quickly than expected. Given the low entry multiple, if earnings grew in the mid-teens, the total return on the stock, long-term, would be over twenty percent compounded (assuming the multiple didn't go even lower).
There's not much to be done about Apple and regulators, but there's a strong case to be made for banning TikTok.
With voting control of the company he co-founded, it's on Zuck to prove he can get back on his streak of winning bets.