Twilio's Go to Market Evolution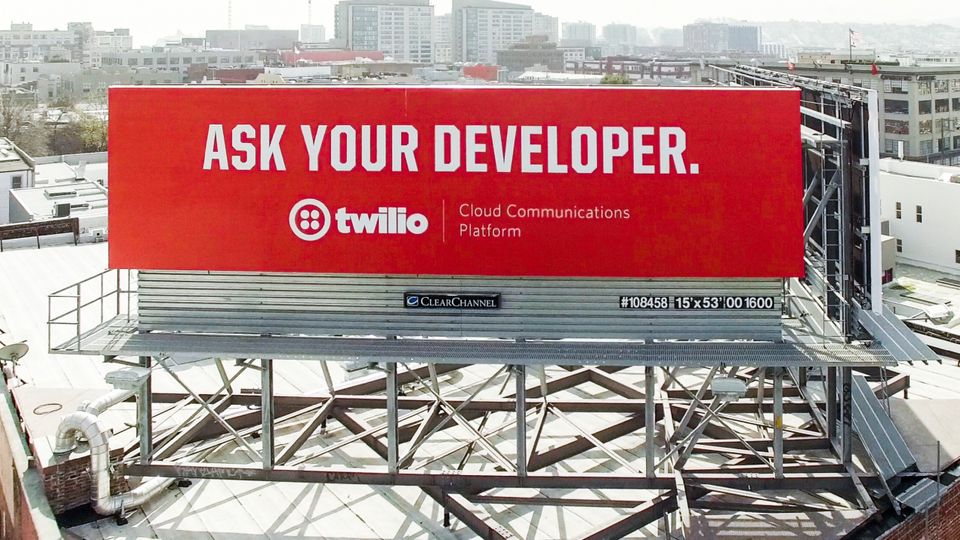 This is a follow-up to yesterday's post on Twilio's margin pressures, the growing apps business, and what this means for investors. (Go here to read a primer on Twilio.)
Twilio began as a developer-facing company. If you landed in San Francisco any time after 2014 or 2015, chances are you came across the billboard shown above on your way into the city.
Twilio's co-founder Jeff Lawson retells the story:
Well, it all started around 2014 or 2015, when not a lot of people, apart from developers, knew who we were. I could tell that getting more executive support and executive awareness of Twilio would be helpful for us as the size of our contracts were getting bigger and bigger. So we had rented this billboard on Highway 101 [in the San Francisco Bay Area] that runs from the Valley past the airport to the city. We hired a marketing firm to help come up with what the billboard should say. But, honestly, we thought their ideas sucked, and we went back to the drawing board.
 
You know those commercials for pharmaceuticals where they say, "Ask your doctor if Regurgitan"—just to make one up—"is right for you"? I had that commercial phrase stuck in my head from hearing it so many times, and I had this idea, like, "Ask your developer if Twilio is right for you."
 
Developers know all the cool new tools out there. They know how to build. They know how to connect the technology to the business problems you're solving. But, so frequently, the business doesn't bother to ask the developers. But it also was a sort of double play for executives who might not know about Twilio yet, as in, "Well, ask your developer, because they're the ones who know about Twilio."
As Twilio moves up the stack from provider of APIs for developers to a seller of solutions, it needs a very different sales motion.
The canonical example of Twilio's traditional sales motion was getting a developer to prototype a solution and present it to the company's CTO. There was no bakeoff, no sales motion needed; developers would do all the hard work for Twilio. A great example is what Morgan Stanley did with messaging, showcased in Twilio's 2017 Analyst Day starting on minute 150 (Customer Panel).
Fast-forward to 2022, and Twilio needs to build the enterprise sales motion of companies like Salesforce or ServiceNow. Lawson touched on this during the Morgan Stanley conference in March:
Meta A. Marshall Morgan Stanley, Research Division – VP
 
Perfect. I mean a question that I often get is that discussion that you're having is not maybe a developer-answered question or maybe they may implement the solution, but that's not maybe the person that you're turning to, to answer that question. And so that discussion is much more of a higher level, almost Board level of discussion. And so how do you see this tie-in between your messaging business, this in and up strategy that you guys have with that discussion that's very much taking place on how do we evolve this customer conversation?
 
Jeffrey Lawson Twilio Inc. – Co-Founder, Chairman & CEO
 
And you're right. And that's a good thing, by the way. That's an intentional thing. We want what we do to align to the executive priorities of a company where there is big budget, where there's attention. That's a good thing. The number of C-level meetings that I and my team have had in the past several years is way more than we have in the early days of Twilio, not just because we've grown bigger, but also because what we do is more relevant to the executives than our customers. That's a good thing.
 
And the way we think about it is what we call our in-and-up strategy, which is that developers bring us in to the company. So we make what we do incredibly easy for developers to adopt. We want them to adopt it, run Twilio in the tool belt of every developer in the world, so they bring us in. And then they become our champions inside these accounts. But as we move up, we're moving up to the value chain. Instead of selling just, say, messaging or e-mail, we're selling contact centers and marketing solutions, right? We're also moving up the org chart because we're getting in -- we're brought in by developers and then our sales team navigates their way to hire and hire decision-makers.
Twilio's new motion, as Lawson calls it, is "in and up": first, get the foot in the door with the developer, and then move up the organizational chart to the C-suite and sell solutions like Flex and Segment.
This is not an easy transition. Salesforce and ServiceNow spent many years hiring and training salespeople to sell and cross-sell solutions. For Twilio, this is a new muscle.
To flex that muscle, Twilio hired George Hu from Salesforce in 2017. My interpretation of this hire was that Lawson wanted Hu to build Twilio in the mold of Salesforce: a meaningful business capable of organic innovation and skilled at making acquisitions to complement its existing products.
Hu oversaw Twilio's go to market efforts, but was replaced by Marc Boroditsky, who joined Twilio from the acquisition of Authy, a 2FA authentication service. Hu's transition was anything but smooth; it was abruptly announced on October 27th, during Twilio's Q3 earnings. The stock promptly declined 17 percent:
The Company also announced that on October 25, 2021, George Hu informed the Company of his intention to resign from his position as Chief Operating Officer. Mr. Hu agreed to serve as Chief Operating Officer until October 27, 2021, following which he will remain at the Company as a strategic advisor to help with the transition until January 3, 2022. Mr. Hu will transition his go-to-market responsibilities to Marc Boroditsky, Twilio's Chief Revenue Officer, effective October 27, 2021.
On the same day, CFO Khozema Shipchandler was appointed COO in addition to his role as CFO.
Two months later, in mid-December 2021 during a webcast Q&A, Lawson went into more detail on Twilio's "in and up" strategy and cross-selling Segment, Flex and other apps to Twilio's customers:
At the midpoint of this year is when we said we're going to start doing that cross-sell, we have started it, and I think it's off to a good start. And in the coming years, when we're going to start doing that even in a fuller way. So you'll start to see customers that are like kind of a basic cross-sell motion, which is it's always good to see.
Lawson pulled out a whiteboard and sketched out the strategy:
As explained yesterday, Segment by itself is not a solution, it's a tool. Last year at Twilio's Signal conference, the company announced Engage, a solution built on top of Segment. It allows customers to have a view of all their marketing campaign results, across all channels (web, email, SMS, etc.) in one place. Segment co-founder Peter Reinhardt introduced Engage:
Lawson also addressed the sudden resignation of George Hu back in October. By all accounts, including Jeff's, the resignation wasn't sudden at all, but it was certainly poorly communicated, and that cost the company billions of dollars in market value and in credibility with investors:
I know there's some swirl around George, and George is a fantastic executive. But this was also a very thoughtfully executed transition. And I know there was some feedback after the earnings call that it was like, "Oh, I felt like it was like he just quit today or something like that."
 
I'm like, it couldn't be furthest from the truth. I think maybe the lawyers were too involved in the drafting of our earnings statements because of the nature of named officers and all that kind of stuff. But sorry, [Murray], I know she's been turning on the call. I'm not blaming you.
 
But the matter of how we did that transition was very thoughtful, because a while ago, George indicated to me that he thought that one day he'd want to be a -- go into the bigger role, right? There's only one bigger role from COO, and I'm like, well, I'm not going anywhere. So -- we started executing a thoughtful contingency plan for the day when that might happen. That included promoting Marc Boroditsky into the Chief Revenue Officer role, giving him more responsibility as well as bringing him on to the E-team over a year ago.
The very next month, in early January of this year, another abrupt change occurred: Peter Reinhardt, Segment's co-founder, announced he was leaving:
Four months later, on May 4th, the day Twilio announced first quarter results, it was Marc Boroditsky's turn to leave after just a few months as Chief Revenue Officer:
After a number of discussions with Jeff Lawson, Marc Boroditsky, Twilio's Chief Revenue Officer, decided to step down from his position, effective immediately, but will stay on for a short time in an advisory capacity to ensure a smooth transition.
To replace him, Twilio tapped long-time board member Elena Donio. Elena's prepared remarks are worth reading: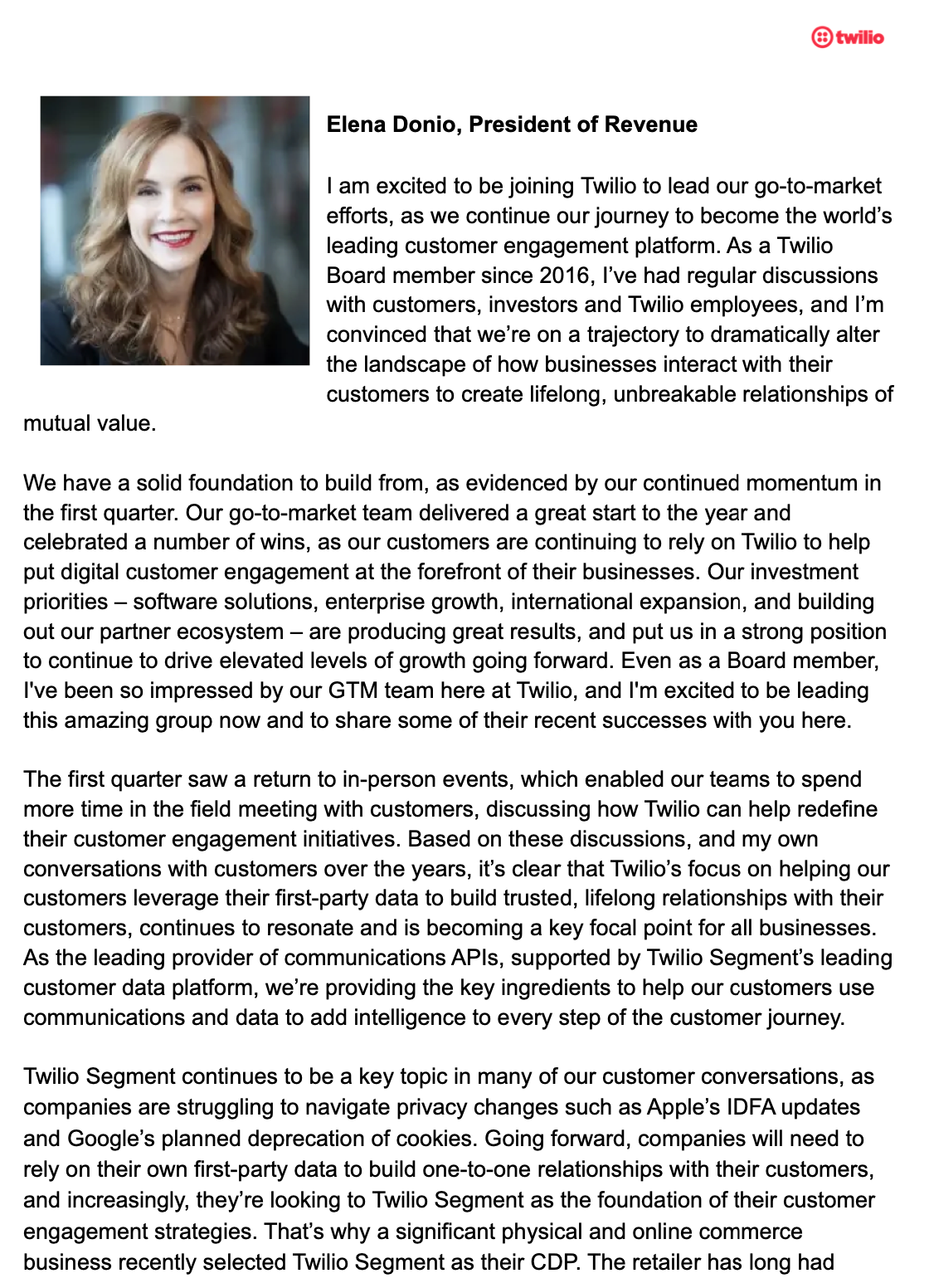 All these changes at the C-suite have certainly put a strain not only on Twilio's organizational structure, but also on investors' nerves.
Twilio has also seen increased attrition in its sales force, and it will be Donio's job to turn that function into a well-oiled enterprise sales engine.
Clearly, there are many moving pieces in the Twilio story. The company has a very strong foundation, with revenues expected to approach $4 billion this year, and gross profits approaching half as much. It's incumbent on this reshuffled management team, however, to put all the pieces together and create value not only for customers but also for its shareholders.